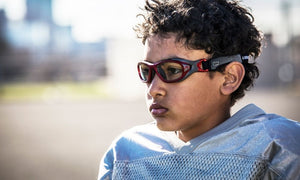 A Guide To Selecting the Right Sports Goggles
When it comes time to find an eyewear solution for the field or court, you can trust in the power of sports goggles. Few solutions are as elegant, powerful, and practical as the goggle, but that doesn't mean they're simple to find. Here is a guide to selecting the right sports goggles.
The Practical Considerations
The foundations of every eyewear selection are the practical considerations surrounding it. Without these logical, physical questions, it would be hard to get started narrowing down the choices. Here are the vital aspects to consider before all else.
Shape and Size
The primary practical considerations when choosing sports eyewear is its shape and size. People have heads of all shapes and sizes at each age growing up. In fact, some people's head stays smaller than the average child. The shape and size of your sports goggles or frames matter immensely for users of all ages, especially because many wrap all the way around the head, making for an elastically tight fit that could prove too snug on your face.
Prescription Nuances
Many eyeglass wearers have more than a simple corrective lens. People who have dry eyes, astigmatism, or color blindness all need unique adjustments with their ocular equipment. If you have astigmatism, you will need a slightly skewed angle of light coming into your pupil. The sports goggles must account for this the same way a normal pair of glasses would.
If you've been around glasses enough, you know that lenses can grow quite thick. The classic trope of the person with "Coke-bottle-thick" glasses is very real. You should account for this with the strength of your prescription. Typically, the more correction your eyes need, the thicker your lenses will be. Anticipate your lens needs before making final decisions.
The Stylistic Considerations
Your sports eyewear isn't just a pair of functional equipment to get you from the first whistle to the last; it's a fashion statement, whether you like it or not. You must figure out how this eyewear will coordinate with your jersey or uniform so you can make the most of your overall look.
Product Style
You must start with a product type; otherwise, you could spend hours perusing styles to no avail. Knowing what you want from the get-go redirects your focus from unimportant frames in the lineup. Sports eyewear comes in all types, but the two main ones to look out for are the frame and goggle styles.
Frame Styles
The core frame option looks like regular glasses that leave the two temples separate. Though you can wear it on its own, this frame style lacks the extra layer of security without the removable band. The temple tips on these models are quite rubbery, creating excellent frictional protection between the wearer and the outside world. These are best for people who prefer the traditional eyewear fit of everyday glasses.
Goggle Styles
The goggle style centers around the normal two-pronged pair of glasses, but with a twist. Instead of two temple tips at the end, goggles have two loopholes where a thick band wraps from end to end just above the ears. This way, there is round-the-head coverage that secures the goggles in place much like ski or swimming goggles. This style is perfect for those who wear full-faced helmets and need a closer fit.
Curated Color
Frames and goggles aren't bare bone structures; they're majestic style statements. The primary way they convey your personality and flair is with colorful creativity. The shades of color you use when selecting sports goggles matter greatly.
How will your sports eyewear match the jersey or team uniform you wear to every practice and game? Will you have more than one pair of goggles or frames with different color options? What is your favorite color to include in the piece? All of these questions and more are vital for the sports goggle wearer to consider before ending their search for athletic eyewear.
The Functional Considerations
Sports eyewear isn't just about the form of the fashion, but also the function. Where and how will you use the frames or goggles that you buy? Keeping the end game in mind will help you find the right fit that matches your athletic environment.
Usage Setting
You must know where you'll wear the eyewear. Will you need youth prescription sports goggles for a child entering a pee-wee baseball league or a middle-schooler starting their first traveling basketball team? Learning about the specific sport and league intensity will determine the type of goggle you get. If you anticipate people sending dense baseballs hurtling toward your face at 40 miles per hour, then you need to adjust your search parameters.
Your usage should also revolve around your personal athletic tendencies. Do you like to sprint and run around the field or court, shaking your head every step of the way? Or do you usually stay in one place? While your sporting skills will determine the specifics, these realities impact how your sports goggles and frames will operate when playing. If you need something that won't move at all during play, you should check out banded styles. But if you just want a tight-but-casual pair of sports goggles, then the non-banded styles could work for you.
Strength Expectation
When finding a pair of high-quality sports eyewear, you must ask yourself tough questions like, "How likely is my child to get hit in the face? What will they need in case they have an on-field emergency?" The strength, durability, and flexibility of your sports goggles or frames should be clear before taking a pair onto the field. The last thing you want to do is don a pair of stylish glasses that have no safety ratings and could shatter upon blunt force contact with a basketball.
With this guide to selecting the right sports goggles and frames in hand, you can make the best choices for you or your child's athletic career. Whether you're an amateur or expert, finding a pair of high-quality, comfortable, snug-fitting glasses is challenging. Reach out to our team at Optics Outfitter today and peruse our selection of sports goggles online. We're more than happy to help you find the perfect fit that will take your game to the next level.
---