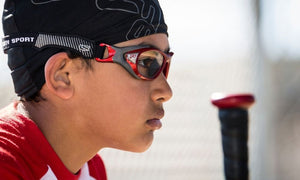 Tips for Selecting the Right Baseball Glasses
Every sport requires equipment designed for a specific set of needs and duties. Sometimes, you need padding to protect bones, and other times, you need glasses to protect your eyes. Taking care of your eyes is a priority, especially if you already have a pair of prescription glasses.
Investing in youth sports and protective gear is expensive, so it's essential to get it right. Here are a few tips for selecting the right baseball glasses to help you narrow your search.
The Material Matters
It's possible that you withstand your entire baseball career without taking a ball to the face. And it's also possible that the ball will miss your glove on a flyball, putting your eyes and nose first in line for a collision. Ensuring the frames are durable should be a top priority when making your selection.
Wearing glasses that are not intended for sports leaves you at risk of them breaking on your face. So, not only do you have the pain of the hit, but now you have broken glasses that can cause further damage to the eye area. Consider frames made from polycarbonate material for the best protection.
Sun Protection
Any outdoor activity needs protection from the elements, specifically the sun. When selecting prescription baseball glasses, a UV protective lens can reduce perpetual squinting, eye pain, and tension headaches, all of which will affect your ability to perform at your best.
Motion Security
Just as you may or may not experience a shot to the face, the level of motion you endure in a game or practice varies. An outfielder could stand still for several batters or run through the entire outfield, while a shortstop might be on the move after every pitch. A pair of youth baseball prescription glasses with a secure band around the head will provide security in motion, whether it's a quick jolt for the ball or a long sprint to the fence.
The investment in your child's youth sports career comes with many decisions and even more gear. After reading these tips for selecting the right baseball glasses for your athlete, get in touch with us at Optics Outfitters; we can help you make the right decision.
---