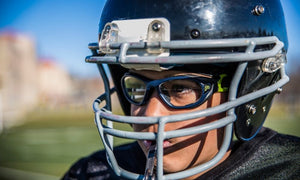 5 Things You Need To Know About Prescription Sport Goggles
Wearing prescription glasses and playing sports requires a little extra talent. Sometimes, external forces are out of your control, and other times, the wildly expensive frames you bought are at risk. It's not that you need to spend more money on glasses, but instead, investing in prescription sports goggles could save your everyday frames from excess wear and tear.
Optics Outfitters understands that eyesight matters, especially in times of play. So, we've taken the time to break down the top five things you need to know about prescription sport goggles.
What Are They?
The struggle of keeping your everyday lenses from slipping non-stop or free from fogging in the middle of an important play can make participating in sports uncomfortable. And while contacts sound like the perfect solution, for many, it doesn't work out. Sometimes extracurricular activities like swimming, diving, and snorkeling leave you vulnerable to waterborne bacterial infections between the eye and lens.
The most practical solution is prescription goggles. By choosing prescription goggles, you protect your eyes from external debris and maintain your eyesight with your exact prescription. Unlike your standard frames, these are durable enough to withstand blows to the head without shattering.
In addition to durability and protection, prescription sports goggles also provide things like:
Protection from wind and debris. All it takes is one speck of dirt and a rub of the eye to scratch the cornea and keep you from finishing the game. And in the event of strong winds, your eyes can become dry and irritated.
Anti-fog finish. Temperature and humidity changes happen daily, and given the climate you're in, they can change within a few hours.
Shatterproof. A bonus of sports eyewear is the material. Because it's essential they don't give out in the moments that matter most, they are made out of a tough polycarbonate which is resistant to high impact levels.
Comfortability. Not only can you eliminate wearing a double lens', but the goggle's design prevents from irritating the skin and digging. There's flexibility in the straps and additional padding.
Stability. The issue with your everyday glasses is their inability to stay put should you move fast or collide with something. The strapping around the goggles provides enhanced stability and cuts out the worry about them falling off right when the ball is headed in your direction.
Tailored tinting. For a sport like tennis, where the ball is a unique color of lime yellow-green, you can have a tinted lens tailored to see the ball more clearly. The same applies to other sports with unique colors and situations.
UV Light Protection
When designing your pair of goggles and creating them the way you want, consider if you need a tinted lens to allow extra protection for any outdoor activities. In sports like baseball and softball or snow sports, the sun plays a role in your overall ability to perform well. The last thing you want is the ball smacking you in the forehead because of poor vision quality.
Commonly, outdoor athletes will wear a pair of sunglasses to help, but if you're wearing prescription glasses or sunglasses, you're still at risk of losing them or dropping them in the heat of the moment. A tinted goggle protects from sun glare and ultraviolet (UV) light, contributing to cataracts and skin cancer.
Who Are They For?
No matter the athlete's age, prescription goggles are suitable for anyone who wears contacts or glasses regularly. Younger children feel more comfortable wearing them as they can play without thinking about their daily frames. Adult also benefits from goggles as they are capable of handling work sites such as landscaping or construction.
The home improvement style goggle serves its purpose, but if you require a prescription, wearing these goggles over the top of your everyday frames is bulky and inconvenient. You're at higher risk of lens fogging up, which can lead to decreased vision. Prescription goggles make it possible to protect your eyes without putting yourself out.
If you're still unsure if you should try a pair of prescription sports eyewear, here's a list of a few activities they're most suitable for:
Basketball
Volleyball
Baseball and softball
Soccer
Water sports
Football
Snow sports
Ice or street hockey
Paintball
Enhanced Vision
With the design of the goggles fully wrapping around your eyes, your peripheral vision becomes just as good as your central vision. No matter your activity, a lot is going on around you, so it's vital that your eye reflexes respond appropriately. In outdoor sports, you are constantly battling the sun, and the goggle's lens' protects from the sun and doesn't have a glare like a regular pair of glasses.
Fit Is Important
There is no such thing as one size fits all, or even most. To ensure that your vision is correct and the eyewear will protect your eyes, it's critical that the goggles fit appropriately. Unfortunately, wearing goggles that are too small can be just as hazardous as not wearing any at all.
Young athletes grow rapidly, so they should have their eyewear assessed every year, and the overall fit could change. Active adults should also have their eyewear evaluated annually, as their vision can change from when they first receive their prescription. Anyone with a pair of prescription sports goggles should ensure the interior padding rests flush with the eyes to gauge proper fit.
Where Can I Purchase Prescription Goggles?
At your next visit with the eye doctor, you can request a pair of goggles and the doctor can provide your prescription. Once you have all the information required, you can buy prescription sport goggles online through Optics Outfitters. Tell your doctor the type of activities you engage in so they can guide you to choosing the right style of protective eyewear.
With all the things you need to know about prescription sport goggles, there's a lot to think about. It's often difficult to bring yourself to acquire extra eyewear when you already struggle to deal with your everyday glasses. But for young athletes and active adults, protecting their eyesight should be a top priority.
---