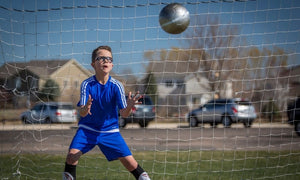 How Can You Protect Your Child From Common Soccer Injuries?
Soccer is a rapidly growing youth sport for girls and boys. Youth athletes participate in this widely accessible activity through their school teams or club sessions, or they might play it with their friends just for fun. As in any sport, though, there's always the risk of accidents and injury. Here are a few ways to protect your child from common soccer injuries that can occur no matter their experience level.
Concussions
Due to the impact level of soccer, a player can experience a concussion at any point. A few primary causes of concussions include limb-to-head contact and head-to-ground contact. Though there's no surefire way to prevent this from happening, investing in youth prescription sports glasses for soccer can alleviate any strain to the eyes should a concussion occur.
Knee Injuries
A torn ACL occurs when the knee joint experiences hyperextension or twisting. If your athlete complains of weak knees, consider investing in knee braces that support the joint and ensure proper movements. An injury to an ACL can result in repeat occurrences, so following through on therapy measures is critical to preventing future instances.
Bone Fractures
A widespread injury many kids face while playing soccer is a wrist fracture. But a few other common areas for fracture include the ankles and collarbones. If the fracture results in surgery, this will limit the athlete's ability to play for up to six weeks.
Because growing bones are soft, kids must always wear the proper protective equipment, such as shin guards and ankle braces. Another way to minimize fracture risk is to encourage safely making contact and avoiding any harsh collisions.
To protect your child from common soccer injuries, you may need to mitigate the amount of contact they experience with other players. Ensure your athlete wears all the necessary equipment for the sport and follows their coach's guidelines. To learn more about proper eye safety and how prescription glasses can benefit your young athlete, reach out to Optics Outfitters today!
---