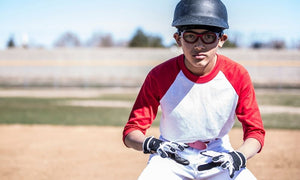 Should Kids Wear Eye Protection While Playing Sports?
There's a significant increase in blue light awareness now that children are on tech more than ever before. While more parents are raising concern for exposure times, you also take a risk when sending your children off to play sports. Activities like football, swimming, and baseball all offer the possibility of high-impact injury.
Let's dive into why kids should wear eye protection in sports and break down a few popular styles.
Benefits of Protective Eyewear
The core difference between everyday glasses and protective goggles is the ability to withstand play and impact. It's important to note that not all eyewear is equal. Choosing the appropriate eyewear for your young one's activity increases your chances of preserving their sight should an injury occur.
Different Types of Protection
Because we rely so heavily on our vision to help us navigate the world around us, it's critical to promote good eyesight habits and provide protection while kids are still young. Depending on the sport or activity, you'll want to find the most suitable protection.
Swim Goggles
It's natural to want a swimmer's goggles to see under the water. But for water sports where an injury is probable, you also need to ensure the goggles can endure impact and resist shattering. Consider polycarbonate lenses for sports in which contact occurs, such as water polo and water basketball.
Safety Goggles
Typically for an outdoor sport, you send your kid off in a stylish pair of sports sunglasses to protect their eyes from the sun. But in activities like baseball and softball, tennis, or lacrosse, it's best to look for an impact-resistant polycarbonate lens with built-in UV protection. These activities are all at higher risk of head-on collisions or injuries to the eye zone.
Helmet With Face Guard
Popular sports like football and hockey pose a great deal of risk when it comes to head injuries. While helmets are already a requirement and most also require a face shield, a polycarbonate face shield might still work better for your child. It's best to consult your pediatrician or optometrist to find the best options.
Hopefully, this explains why kids should wear eye protection in sports and helps guide you toward making the best decision for the young athlete in your home. Get in touch with Optics Outfitters today to discuss youth prescription sports goggles and more!
---