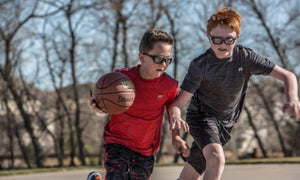 Sports Goggles Vs. Sports Glasses: What Is the Difference?
Everyday glasses are perfect for most activities in your life. However, they aren't quite as safe or effective in high-intensity, sweaty, fast-moving scenarios like sports. That's where sports goggles and glasses come in. But what is the difference between sports goggles and sports glasses?
What Are Sports Goggles?
When you think of goggles, you probably imagine something like swim or ski goggles—eye protection is an inseparable part of the action. These goggles suction close to the eye and wrap around the head. Goggles for other sports are just like these, although slightly different in design. Prescription sports goggles have two sections: the goggle and the strap. The goggle portion includes both the lenses and the goggle frames with two loops at the ends. The strap section connects through the looped frames, connecting around the wearer's head.
What Are Sports Glasses?
Sports glasses (also called sports frames) more closely resemble everyday glasses. These action-ready glasses have two lenses with temple tips that extend a little past the ear. Two of the main differences between sports glasses and everyday pairs are their frame construction and their attachable frame strap.
The frames fit closer to the wearer's head, exhibiting a curvature that closely shapes the side of the face rather than building a rectangle around it. Additionally, they have a removable strap in the back (this is one of its distinctive features.) The strap is what gives sports glasses their top-notch safety rating. The strap keeps the frames from slipping off the wearer's face. For example, imagine you're wearing a pair of our prescription glasses for racket sports. You're running for a tennis ball, and your glasses slip forward because your nose is sweaty. If you don't have the strap in place, the glasses could fall off your face, leaving you vulnerable to a fast-paced tennis ball straight to the eye.
The Core Differences
The core differences between sports goggles and glasses lie in their construction and features. The goggles sit closer to the eyes and have a tighter construction, making them ideal for full-faced helmets like those in baseball, hockey, and lacrosse. Sports frames, however, have a fit closer to normal glasses, making for a simpler, more seamless transition and feel.
Knowing about the difference between sports goggles and sports glasses can help you choose what's best for you or your child. Though everyone will have their own shape and color preference, deciding between goggles and frames will make for a markedly different experience. If you want to explore the various options, try our special at-home try-on deal. We have up to four frames for comparison. If you have questions, reach out to our team at Optics Outfitter. We can help you choose the best-suited eyewear for your sports experience.
---