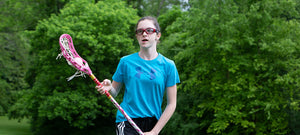 A Buyer's Guide for Prescription Sports Glasses for Lacrosse
We know too well that Lacrosse is a fast-paced, exhilarating sport packed with intense action. Players typically sprint across the field with the aim of precision, passing and shooting while dodging the defenders. To play your best and protect yourself, you're going to need a full complement of great gear. If you wear prescription glasses, a quality pair of sports glasses is a must have as well.
What to consider when choosing a new pair of lacrosse glasses
Frame Fit and Compatibility 
Frames: Frames are glasses for lacrosse with traditional temple arms that fold out and sit along the sides of your head. They are easy to wear and take off when needed and come with a frame strap to secure it comfortably on the face. All our Rec Specs frames fit under helmets, but we suggest testing these via Home Try-on to make sure it doesn't create pinch or pressure point spots underneath your full helmet or eye guard.
Goggles: Goggles for lacrosse have a headband strap that goes around the head for a secure fit on the face. It offers maximum protection without sacrificing visibility to pass, shoot, and defend at their optimal performance. These are recommended for players wearing helmets or face masks for a comfortable fit under any additional gear.
Interchangeable: An interchangeable frame to goggle style is a great option for multi-sport athletes, or those that play different positions on the field as it provides the versatility of both options in one.
Gear Compatibility
Getting the best lacrosse eyewear to maximize your performance starts with compatibility. Rec Specs glasses and goggles are designed to fit perfectly into any required gear or equipment used for lacrosse. You'll see no problem wearing it with your helmet, eye guard, or headgear.
Lens Technology
Impact Protection
A shatterproof, polycarbonate lens should always be worn by anyone playing lacrosse for better protection and durability against fast-moving objects that could strike the eyes.
Tints
Choosing the best tint ensures optimal vision and maximum game day performance. It's best to evaluate your lenses in several lighting conditions that match what you often experience.

A clear tint is recommended as it allows the most light. It's perfect for cloudy conditions outdoors, sunset, and nighttime. For varying light conditions, you may opt for a transition tint that stays clear (or nearly clear) indoors and darkens automatically when exposed to sunlight.

Dark Amber, Copper, or Brown tint can be particularly useful to improve contrast on grass and against blue skies. It's perfect for days with bright conditions or moderate fog.
Polarized Lenses
Polarized lenses are not recommended for lacrosse as it has been shown to affect depth perception. Hand-eye coordination and movement around the field is a big part of the sport so anything that will interfere with tracking your steps, the ball, or your opponents is not something we would recommend.
Coatings
Lens coatings impact the quality of your vision and the comfort you feel while playing. We highly recommend 2x2 ProCoat, which is included at no additional charge with your Rec Specs prescription lenses. It has a double coat of fast fog recovery and anti-glare that lets your lens quickly recover from fog and eliminates 99.9% of reflected light.
Top Recommendations for Lacrosse Glasses & Goggles
We have picked out some of our best options for lacrosse glasses that will help protect your game.
Sport Shift:  Designed for multi-sport athletes, this frame features an interchangeable temple and goggle attachments in one.
Helmet Spex: Known to keep goggles in place under a helmet, this frame maintains peak comfort and vision performance.

Slam Goggle: Geared with premium optical quality polycarbonate lenses, this frame offers comprehensive protection, combining both high performance and durability. Available for teen and adult fitting.
Maxx Series: A crowd favorite! If looking stylish on the field is important to you, go with this set of lacrosse eye protection, as it comes in different colors.

We know finding the right pair of frames can be tricky, but our Outfitters are here to help! We'll assist you in making the right choice for you or your young athlete. Click here to start shopping or talk to one of our Outfitters by clicking the 'chat' icon.

You can also use our easy Home Try-on Kit to test out lacrosse glasses from the comfort of your home. Click here to get started building your kit for FREE. Don't forget – we also offer a 30-day satisfaction guarantee on your purchase!
---